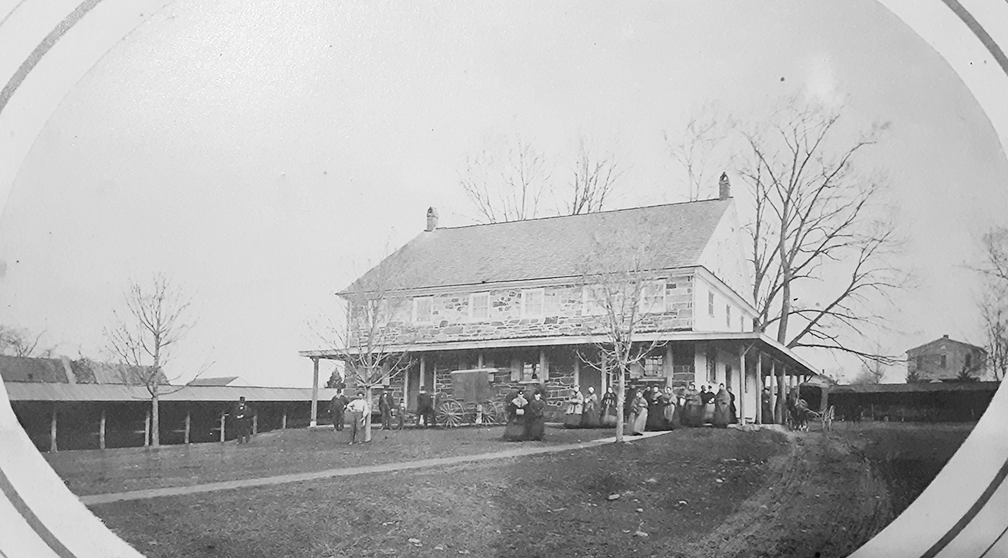 In 1682, William Penn and his followers the Society of Friends, more commonly known as Quakers, began to settle the area southwest of Philadelphia, from the Karakung to the Mokohnipates Creek, from Tinicum to Haverford (today's City Line Avenue).
They called this area Darby Township, after where many had come from, Derbyshire, England. Their leader was John Blunston, who would go on to serve as Speaker of the Colonial Assembly on three occasions.
By 1700, it is estimated that 90% of the inhabitants of Darby were Quakers.
Why they came was in response to William Penn's call to create a "Holy Experiment". A new nation, an intentional community, based on the core Quaker values of Simplicity, Truth, Equality and Peace.
The first recorded minutes of the Darby Friends Meeting are dated July 2, 1684, not long after William Penn landed in nearby Chester to establish the colony of Pennsylvania. The first Friends meeting house in Darby was a log cabin built in 1687.The third and present building was built in 1805.It was used during the Revolutionary War by Continental soldiers. During the War of 1812, it was used by the U. S. Army as a hospital.
The 2+1⁄2-story building follows the Quaker tradition of simple and solid buildings. Its design is similar to that of the Horsham Friends Meeting House with separate entrances for men and women. Its walls are coursed fieldstone with stuccoed gables at each end. Brick fireplaces are also on each end of the interior. A covered porch extends along three sides of the ground floor, with the porch roof supported by simple wooden posts. Wooden posts also support the interior balcony. Most of the benches and other furniture are built of pine, but the floor is oak. Electric lighting and the usual utilities have been added, but otherwise the building retains its original form.
It was added to the National Register of Historic Places on September 13, 1978.